How to Make Your Instagram Stories Stand Out
Stories on Instagram are just over a year old and becoming more popular by the minute. Over 300 million users check out stories on a daily basis, and for creatives that means a lot of potential eyeballs to peep your latest works of art. Not only are they fun and interactive, but are placed right at the top of app. That's a prime location. Frequently posting stories can be a major tool in your social marketing efforts. If you've never used Instagram stories before, or are already a fan, these tips will help your stories stand out more than a bear shredding on a totally rad skateboard.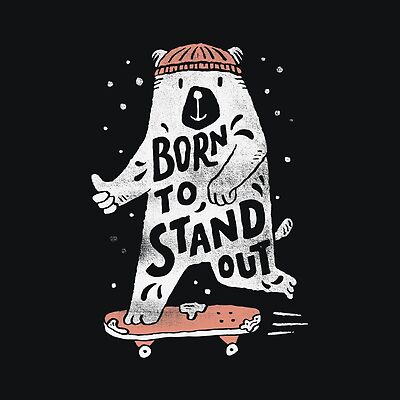 Add Some Color
Stories make it easy to add text, stickers, or even doodles if you like. Whether you're posting an image or a video, you can draw right on the screen, and use the doodles to draw attention to the most important parts of the story. When adding text or drawing you can use the predefined colors at the bottom, or use the eyedropper to pick a color from the image/video you are posting. Nice if you want more control.
What if you want a solid color background so you can place some text and inform your fans of some news? Load up a pic and choose a pen tool color, now click the screen and hold. Boom! The screen will be filled with that color. Pro-tip: You can even use the eraser tool to reveal parts of the image beneath the solid color. 
Get Interactive
One of the most enjoyable aspects of stories is being able to tap through a story or swipe away from one. You want to encourage tapping as that will allow users to see the other slides you posted. Think about clever ways to get fans to tap. This could be done with a simple "Tap for More" on the slide (shown in example) or you could get even more creative and take advantage of the seamless way one slide moves into another. What about tapping a box that opens in the next slide? Have fun and get creative.
Polls are another great way to get interactive. You can ask your fans which variant of a design they like better, or even help choose the next topic for your livestream. To add a poll, load up a pic or a video and then click the "stickers" icon. In the list you'll see an option to add a poll. You can then type a question and even change the answers by clicking on them.
Switch It Up
Not only can you add images and videos to a story, but you can mix and match in each story. Images last for around 7 seconds and videos for 15 seconds, keep this in mind when crafting your stories. You want variety but it's also good to not create stories that are too long. If you have something you really want to talk about or share, consider doing a live video. These are great for sharing art tips.
In the latest update of Instagram you can create text posts, boomerangs, superzoom, rewind, or stop-motion posts. Give each one a try but make sure it adds to your story. If you want to record a short video but can't hold down the record button, try the "hand-free" option. This would be good for recording while using your other hand to draw, or even show off some of your new products that you have on hand. Live videos will also show up in the story stream and your fans will be notified you have gone live.
Pro-Tips
You can choose specific users you want to see a story by click the "Sent To" button at the bottom. Create new groups in the "Share" screen and send exclusive stories to your most engaged fans.
Check out the stats of your story by looking at a specific slide and then swiping up. This will show you the stats of that slide, and let you know how well it performed. Older stories are stored in your "Insights" section. Note: this is available if you have a business account. 
If your profile is a business account, and you have at least 10k followers, you can add links to your stories using the 🔗 icon. This will let your fans swipe up and visit the linked page right from the app. If you can't use the link icon yet, tag your username in the slide and ask fans to visit the link in your profile.