Friendship Day Designs for Introverts
Friendship Day is quickly approaching (August 8th), and for those that find themselves awkward in social situations, this day can be a reminder of why it feels so much better to just stay indoors.
However, friendship is a good thing, and we're told that great memories can be built with those that share common interests. So, with that in mind let's take a look at some designs that can help make those social interactions a lot smoother.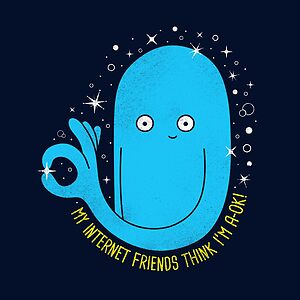 It's always a good idea to introduce yourself when meeting new people. But then all sorts of things can happen, so why not let your shirt do the talking. These designs not only look great, but will make a great first impression. 
While socializing can be beneficial, it's important to have some time to yourself. When that time does come, and maybe it's often, these designs will let others know you're not in the mood for shenanigans. Hopefully without all of the explaining as well. 
There's no greater feeling than when you find that one person that "gets you". They don't get offended when you need space, and they're more than happy to geek out on all the things that you hold dear. Let them know how much their friendship means—in your own unique way—with these designs.