An Introduction To Pyrography
And so it happened that while admiring some of your works we stumbled upon the magical world of Pyrography – the art of burning images into wood. If you're new to this technique then prepared to be mesmerized. Not only is the work quite beautiful, there's plenty of new equipment to be discovered and techniques to be explored …
Pyrography describes the technique of burning images into wood using a tool which is similar to a soldering iron. The tool leaves scorch marks in the wood and different tools result in different shades of colour and different textures. The result is a sepia toned image but many pyrographic artists add colour using pastels, watercolour or acrylics. The best pyrographic works successfully combine the subtle woodgrain textures with beautiful line work and shading.
If you're interested in trying pyrography, these tutorials and links are a good place to start:
The RedBubble community is blessed with it's own generous sprinkling of pyrographic masters and we made a few enquiries to see if they'd share their secrets. The lovely Fay Helfer sent us some behind the scenes photos showing the creation of some recent works as well as the equipment and techniques she uses. (We love the idea of pyrography on blank skateboard decks!)



And here's a behind the scenes image of Robyn J. Blackford (aka aussiebushstick), creating a recent work. Robyn uses the scraps of timber from her husband's handcarvings as her canvas and her works are a labour of love. One of her works took around sixteen hours to complete!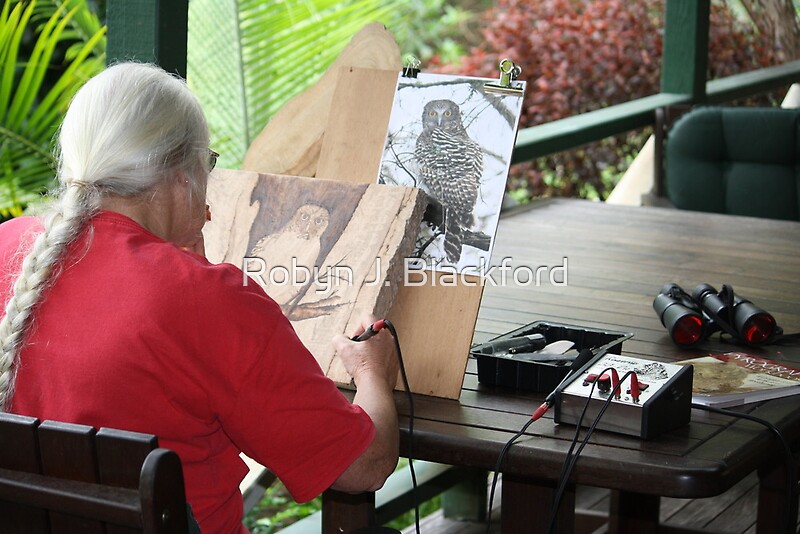 We'd like to hear from bubblers who have dabbled in pyrography so please feel free to share your tips and advice in the comments. What materials do you use? How long do your works take to create? And are there any pyrography or wood burning images in your favourites?