Announcing Mr Baxter's Brand New Limited Edition Redbubble Product
After months of rigorous research and training, we're finally ready to unveil our latest limited edition product offering. For the past few months, if you'd visited RedBubble HQ after hours, you may have been alarmed by a sort of high pitched mechanical whizzing sound, cursing and sometimes a little bit of screaming, but it turns out there was no need to call the police after all.
Mr Baxter has been hard at work, exercising his creative skillz to bring you the latest offering in our fine range of RedBubble products. The limited edition RedBubble tattoo. That's right folks, if someone loves your art so much it hurts, they can now literally love your art so much it hurts.


Please note: these should not, in any way, be mistaken for Mr Baxter's own work
How it works: As of next week, you'll be able to offer your work as a limited edition art tattoo. Our base price of $20,000 USD will cover the cost of flying Mr Baxter to the buyer's house, the transportation of his supplies and equipment, as well as the cost of what we're afraid is an unavoidably pricey insurance policy. Mr Baxter will work tirelessly until your art is recreated in all it's glory on the flesh of your customer, he'll make sure there are plenty of shots for the Buyer's Booth, then we'll fly him and his gear back to RB HQ.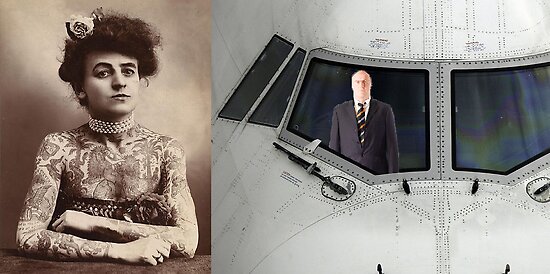 Mrs Baxter's Tatts (That's Tatts people.)
Mr Baxter has undergone six months of intensive training so you can be confident your art will look absolutely fabulous, whether placed on a bicep or buttock. Mrs Baxter kindly volunteered to help him with his training and you can see from the results above he is quite the artiste. We're very excited about this new product offering and we hope you will be too. If you're keen to pop your name on the waiting list, or if you have any questions or concerns please let us know in the comments below.