The Bionic Photographer: Wafaa Bilal
From the world of art and photography news comes this amazing story. Wafaa Bilal, Professor of Photography at New York University, has had a camera mount implanted into the back of his head as part of a project called The 3rd I. Bilal found an accomodating piercing studio who agreed to attach a titanium camera plate to the back of his head. He will attach a small camera to this and from December 15 an image will be taken once every minute, for an entire year, and streamed to The 3rd I website and to the Mathaf: Arab Museum of Modern Art in Qatar. According to the museum, the project aims to be "a comment on the inaccessibility of time and the inability to capture memory and experience."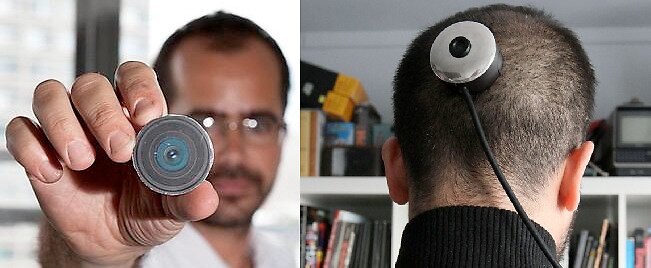 Images from AP/Tina Fineberg
There's a video interview available online, which contains some imagery of the camera plate being attached but as we had to fetch the smelling salts when Mr Baxter viewed it earlier, we've decided it's best not to link to that kind of thing. If your stomach is a little stronger, and you're particularly interested in finding out more about the project, it's easily found by searching on Google.
This story reminds us of performance artist Stelarc who is arguably best known for grafting an ear onto his arm and has also created bionic limbs and worked with prosthetics to create his art.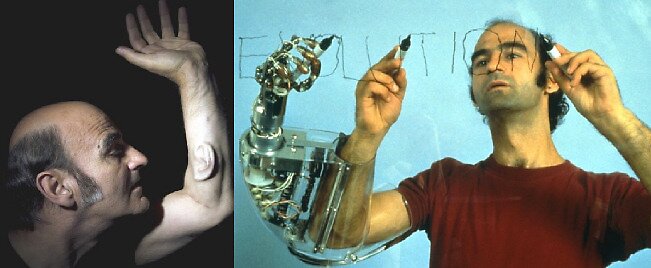 Images from http://web.stelarc.org
Do you know of any other artists who have modified their bodies in order to create their art? Do you admire artists who will go to these lengths for a project? We'd love to hear your thoughts in the comments below.
---
Tweet
Share
Subscribe
Bookmark
Vote up
Got an idea for a blog post? "Let us know.":http://support.redbubble.com/faqs/advanced/redb…