How To Photograph Ink Drops In Water (and a Mini Challenge)
We've wanted to try photographing ink drops for a while now, so today we're finally setting aside some time to learn how it's done. It's a technique both designers and photographers can make use of. Not only does it inspire some beautiful photography, the images can also be used as elements in design work. All you need for a basic setup is a glass, some food dye or ink, some white paper and a light source. Here are a few examples we've spotted around the bubble:
If you're interested in trying this for yourself, we've found the following tutorials to get you started. If you're an old hand at this technique, we'd love to hear your tips in the comments too.
Parmi demonstrates a food dye in water setup
How to make ink spreads and drops (video showing setup)
Like all inspiring ideas, once you've mastered the basics, these techniques can be adapted and rules can be bent to produce some unique and striking results. For example, Japanese photographer Shinichi Maruyama has opted for a more freestyle appoach to producing his inky works: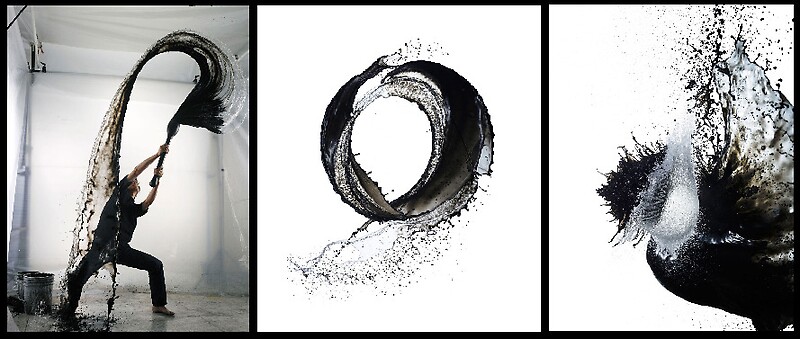 Mini Challenge (NOW CLOSED): If you've considered giving this a try, we'd like to give you a little incentive. We've got four $25 USD RedBubble vouchers to give away to the most creative experiments in the style of the images above. Please Note: This mini challenge is for new works only. You're welcome to post older examples as inspiration but we're particularly looking to reward artists who've put some time aside this week to learn or practice this technique and create something brand new. Please post your images below and we'll check back in the next few days to see how you're going. Good luck!
AND THE WINNERS ARE! Congratulations to Margaret Bryant, GlennB, Jim Swift and Quinton Hoover for their fabulous efforts in this challenge. We'll be sending you a bubblemail shortly. A great big thank you to everyone who took part! Here are the winning entries. If you'd like to see them in all their glory and congratulate the artists, just click on the thumbnails:
Have you tried photographing ink or dye in water? We'd love to hear about your experiments and any tips you'd like to pass on for those trying this for the first time. What materials do you use? Do any particular inks work best?