'How To Draw' with Mr Baxter – feat. 'The Owl'
Good hello and welcome to my first and probably last tutorial on the age old art of drawing things with pencils. In today's lesson we'll be…COLLEEN STOP THAT AND FACE THE FRONT… learning how to draw the most venerable of flying creatures, are you ready? Let's begin….
---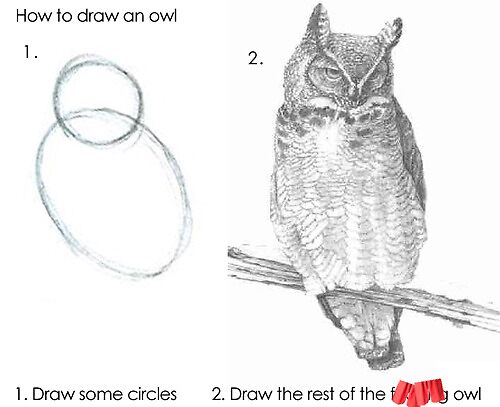 ---
Well that was easy. Now here's a showcase of some of my former students in a one-time-only segment I'd like to call Eight Excellent Owls:
Would you believe we even have an owl art group? In fact we have more than one if I could point you int he direction of these owl pictures also.
Please feel free to show me more owl pictures than I could possibly know what to do with.
Regards Mr Baxter
P.S. I can't find the owner of that piece of owl comedy, please advise me if you know the source. Thanking you.
---
Enjoy this article? Share it with friends!
ReHoot
Share
Subscribe
Bookmark
Vote up
Got a topic to blog about? Feeling hungover? "One of these problems will be solved here.":http://support.redbubble.com/faqs/advanced/redb…